---
First time when I and my best friend Iva visited Paris in France was in spring 2014. Although there was a high risk of rainy weather because of crazy april, at this time it was worth it. We had 4 days in row shiny sunny weather and so we were super excited to see Paris in its full beauty. 
Now, here are few columns how was it for me to experience this magical place on my own skin.
Paris is one of the most fascinating cities on the earth. At least for me. I have never thought that I will be so charmed by this city of light and love. 
First of all, it is very hard to describe the feelings after visiting this wonderful place. 
What I found breathtaking was my first sight of Eiffel Tower. When me and my friend Ivana reached the Trocadero square we were completely stunned by the simplicity and lightnes of such great construction. That construction displayed in hundreds of romantic movies, documentaries, french telecourses, presented in many books, postcards, seen on handbags, t-shirts etc.
---
If you decide to travel to Paris, and never been there before, for sure you need to spend 3 or 4 days to visit all 'MUST' sightseeings, explore great gourmet, fashion and vinaire daily life of 'parisiens'. If I talk about sightseeings and authentic life of paris citizens, I don't mean standing 3 hours in the line in front of the Louvre and spending whole day staring on the Eiffel Tower from the bottom while waiting another half of a day for tickets to get to the top. I am talking about real atmosphere which includes to find the best not overcrowded spots in the city to admire all the beauties of this stunning place. We expired the city through the following routes:
After reading  few pages from my guide-book I have got an overview how to explore the city the best way.  I decided to go for spontaneous kind of tour. First thing when me and my friend got up in the morning was of course getting our coffe in front of our appartement in very small but very friendly little cafe bistro on the corner of the street. 
We had real luck to find an appartment in the neighbourhood between 17-18. district near to the Montmartre. One of the most picteresque and liveliest districts of the city where used to live and work many artists. So we went from La Fourche metro station all the way down Avenue de Clichy to the Place de Clichy, and so on our way to Sacre Coeur we headed to Moulin Rouge, then all the way up Rue Lepic, where we stopped by at the famous Coffee house from the movie Amelie.We have also visited very small cheese shop called ´Fromagerie´  in which we found the very best selection on many cheeses. On our way to Sacre Coeur we walked to Place du Tertre, which is also one of popular tourist spots thanks to its artistic history.. At the end we climbed  up to our morning´s object - SACRE COUER. This walk took no more than one hour all together with short stops for another coffe and croissant :-D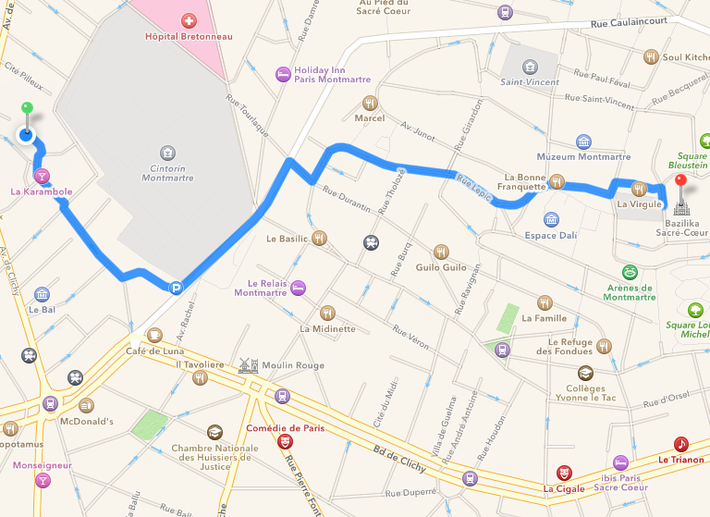 Soon, after admiring the unique building of Sacre Coeur, there was time to move on and at this perfect wetter there was no other option than going to check the one and ultimate EIFFEL TOWER. So we passed by the loong staircase leading from basilica of Sacre Coeur down to the Boulevard de Rochechouart, where we took the bus line 30 at the bus stop called Anvers. This line takes you to the final station Trocadéro. In my opinion, from Trocadéro square is the most fascinating view of the Eiffel Tower. I would describe my fellings like this: Breathtaking, unique and free. 
Gardens of Trocadéro (Jardins du Trocadéro) & Parc du Champs de Mars

 
Half an hour of starring at the jewel of Paris and taking like 1000 photos was enough for us so we set out the way through Gardens of Trocadéro, across the river Seine, under the Eiffel Tower, hitting Parc du Champs de Mars where we had a small picnic with sip of Champagne. The weather was more than ideal and so we savored the moment of being on one of the most beautiful places on the earth.
Local Shopping and Dinner Time
As our picnic was at its end, we decided to shop some local products at a very small Supermarket G20 Supermarchés where I got the best Cookies ever put on sale on this earth. They are packed in very original and gimmicky box and are ideal to bring home as a gift. My boyfriend went crazy after tasting them :-D. They are called ´Les Cookies de La Mére Poulard´ and are available in various flavours. So we had the best presents with us and at this time we were starving. Thanks God we discovered  very fine italian restaurant called GLORIA on our way down the Rue Saint-Dominique  (I know I know - to eat italian food in Paris is not so french, but I must say it had its frenchy flair though, the ingredients and wine were local enough :-D). Staff was extremely polite and we had a daily menu for 15 EUR! Bargain! Now,after a long day out we got back to our rented flat so we could ´refuel´ for the next day.
as usually on the corner of the street next to our appartement. This bar doesn´t serve croissants for breakfast, but the owner was so nice and got me 2 butter croissants after I asked if they serve any:-D Simply amazing service! 
After the morning coffe we started our journey by heading to explore very unique bridge called Pont Neuf. This bridge is one of 38 bridges in Paris and  was the first one among of those connecting left and right bank of the Seine. It is the oldest bridge in Paris despite of its name "New Bridge". First we got out at the metro station Chatelet and walked the way down to the Seine. Alongside the river on the Quai de la Mégisserie we could admire few houses which are decorated in so called "Haussmann´s Renovation Architecture" style. By walking across the bridge at that beautiful weather we were closer to our aim Notre Dame Cathedral which is built in historical and geographical centre of Paris Ile de La Cité - Heart of Paris. Walking along the Quai de l´Horloge and getting to the side of Palais de Justice de Paris we are not very far from the cathedral. Be ready to standing a cue to get in because there are always many tourist on the site.
Notre Dame, Saint-Germain

 
So now we have done Notre Dame and can proceed forward by exploring other parts of this mesmerising city. We had great lust to go on foot by crossing the bridge Pont de l´Archeveche onto Boulevard Saint Germain. Wonderful walk. We happened to find very cosy little bistro to grab our lunch baguette and espresso before heading to Jardin du Luxembourg.
Jardin du Luxembourg- Place Vendome and the Ritz Hotel- Printemps top floor view
At this beautiful day, we really enjoyed sunny weather, fresh air full of spring odours and such amazing atmosphere. Ivana is real fashion freak and thats why we wanted to pay a visit of Ritz Hotel where the famous Coco Chanel spent the most of her life living in one of many hotel rooms. Unfortunatelly at this time was hotel under reconstruction so the only way to get a real feel of Coco  was to visit the high street fashion Chanel shop near to Place Vendome. So we did. And were amazed. To keep the fuel up we needed to top up some liquids. In the Les Printemps the famous shopping centre on the 64 Boulevard Haussmann. I have some secret tip. There is a great view from the top of the roof of Les Printemps where you can buy some refreshing glass of Sekt or Beer and admire beauty of neighbourhood as the sun sets.
Of course we had to go out at night in this astonishing neighbourhood ´cause exactly Montmartre is famous for its public houses, clubs and night life. There is so many to choose from. You can also book a table in Moulin Rouge and to experience once in a lifetime performance of one of a kind. For specific information go to www.moulinrouge.fr. We stopped by in our coffee bar on the corner where we received unusual great hospitality from the corsican owner and his wife. We had really great night.
Of course, to be in Paris and do not go shopping would be a greatest sin of all while visiting this fashion mekka. If you fancy to visit some of the best shops, you will be just right on the most famous street in the whole France and so Avenue de Champs-Elysees. Brands such as Longchamps and Dior are all over this loong very frequently visited street. If you are fancy some sweet pleasure, you can visit very chic, typical french patisserie-restaurant LaDuree.
Private view of Eiffel Tower from Les Ombres Restaurant 
And because we do not like to spend time in the whole-day cues to get to the top floor of the Eiffel Tower and prefer more special ways how to enjoy sightseeings, we drunk our beer on the terrace of Les Ombres restaurant. And that view was really something special. Have a look at the photos. 
---