White sandy beaches, good food and wine. These are mostly the main reasons why people visit Sardinia, the second largest island of Italy. There are sooo many beautiful things on the Sardinian island to explore. One of the main highlights is the food. Today I am going to take you closer and show you a piece of traditional Sardinian cuisine. Gnocchetti Sardi - Little Dumplings from the precious island Sardinia.  This time I have the ultimate chance to cook my favourite recipe in the old harbour of one of the Most beautiful Cities on the whole Island - ALGHERO.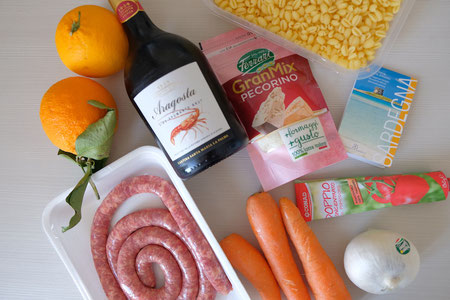 Preparation time: 7 min
Cooking time: 30 min
Serves: 5 persons
This recipe is surely easy to prepare and you if you find yourself in Italy, the ingredients are very inexpensive. This colourful and intensely flavourful dish is very popular and is considered to be a signature dish in Sardinia. If you visit a restaurant in Sardinia, it is most likely that you will get "Malloreddus" as a "primo piatto" as first dish following a meat or fish - assumpted you ordered a "Menu Degustazione" which is quite common on the island in many restaurants. You can choose from variations of different menus prepared to order. Mostly cooked from local ingredients. Yumm!
---
 Ingredients I used for cooking Gnocchetti Sardi:
For the meat ragu sauce
400g of salsiccia fresca (fresh italian sausage)
3 carrots, finely chopped
1 big onion finely chopped
(1 stick of celery - which of I didn´t have)
120g pecorino cheese 
splash of prosecco/white wine 
2 table spoons tomato pureé
1 can of diced canned tomatoes
il 
salt and pepper
For the pasta: Sardinian pasta Gnocchetti Sardi - little dumplings
500g Gnocchetti Sardi (fresh or dry)
pinch of salt to put into a boiling water
To Sprinkle the ready pasta
150g of Pecorino sardo- grated 
Equipment I used:
Large pot to cook the pasta in boiling water
Large frying Saucepan to make the ragu sauce
Wine glass for your prosecco :-D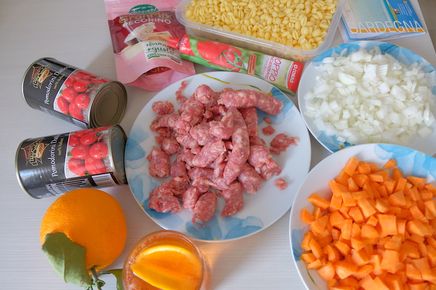 Procedure:
To make the ragú:
After chopping up the carrots, celery and onion, heat up a large frying pan and add those ingredients to the pan. Fry for few minutes until the onion gets nice and glossy. Then season with salt (additionaly you can also add rosemary).
First remove the salsiccia from its casing and then add to the pan with your vegetables. Break up the sausage in a pan and let it to sauté for 5 minutes. After that add a splash of wine.
Stir and let the wine to evaporate. 
Now add the canned tomatoes and tomato pureé. Let to simmer for 5 minutes. Pour in 200 ml of water. Bring to the boil and after reducing the heat let to simmer for another 15-20minutes. Season with pepper and salt if needed.
To cook the pasta shells/gnocchetti:
Cook the pasta shells in a salted boiling water. ( Do not put the pasta to a cold water as it would get soggy and not edible!)
Mind the cooking time on your package as it depends if the pasta is freshly made or dry. You will only need about 2 minutes for cooking the pasta if you have a home-made or fresh one from the shop. Drain the pasta well before adding to the ragú sauce. Generously add the pecorino cheese to the mixture and stir. 
To plate up
Transfer your ready Gnocchetti Sardi onto a plate. 
Sprinkle with more Pecorino cheese. If you like you can add basil on the top. 
Finish line:
Serve your Gnocchetti with glass of Canonau (red sardinian wine) or good glass of Prosecco as I served one to myself :-)
Tip:
If you would like to order the original sardinian ingredients, here the links where you can get your
wine and
Enjoy! :-) 
ENJOY guys! and leave your comments below if you made this wonderful recipe by yourself!
---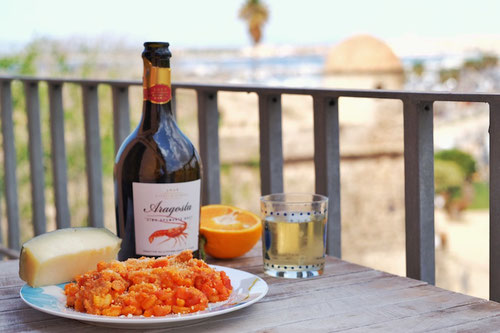 You can find the original recipe from my favourite italian cook Gino D´acampo here (click on the button) :