This cake is inspired by sunny side of Italy on the Amalfi Coast. The mascarpone cream in this cake tastes intensively after lemons which immediately brings me to Positano or Maiori where the lemons grow everywhere. The poppy seed sponge cake is very easy and quick to made so maybe so let this recipe to inspire you and make your weekend a little bit Italian! Let's prepare our Torta di Papavero with lemon mascarpone cream!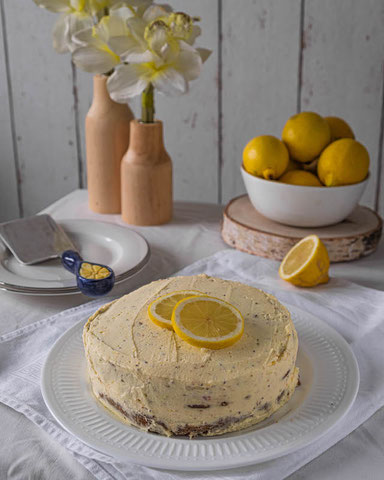 Prep time: 20 min
Baking time: 30 min
Chilling time: 20min 
Portions: 10-12
---
Ingredients:
For the cake base:
3 eggs
2 mugs granulated sugar
1 mug milk
1 mug peanut oil
1 mug poppy seed (not grated)
2 mugs universal flour
1 baking powder
optional: crushed nuts and/or canned apricots
For the lemon mascarpone cream:
250ml cold whipped cream
200g mascarpone
lemon juice from 2 lemons
lemon zest from 1 lemon
75g powder sugar
For 1 layer of filling: 
Strawberry jam
Procedure:
Preheat the oven to 180 degrees celsius.
Mix all the dry ingredients together in a big bowl.
Add the eggs and liquid ingredients and mix well.
Pour the mixture int a springform cake tin (or two if you think you have too much dough).
Bake for 20-30 min until the dough is not sticky and baked well. Set aside and let to cool down. When completely cooled, cut the cake into 3 or 4 even horisontal layers.
Meanwhile, prepare the mascarpone filling. Whip the cold cream in a clean bowl until stiff and set aside.
Using a hand mixer or food processor, whip the mascarpone cream in a large mixing bowl. Add the sifted icing sugar, lemon zest and lemon juice and mix well until a creamy mass is obtained.
Now you can spread the mascarpone on each layer, except one where you use the strawberry jam. When done, spread the rest of the cream all over the cake and put into the fridge and let to set. After few minutes take it out and enjoy your piece of cake!
Enjoy with a hot cup of tea!
---