The christmas is slowly approaching and I intensively started to think of all the stress and panic shortly before 24th Decembre. And because this year I want to be prepared , I started to collect my favourite recipes for christmas baking. Recipes for these hazelnut cookies come in many versions, also in italian. But I mostly liked the traditional version of this recipe with butter which I found  in my favourite cook magazine Billa - Frisch Gekocht. So I decided to give it a try and I must tell you, better hazelnut cookies don't exist. The procedure is very easy to follow and the result is just amazing! Let's prepare them!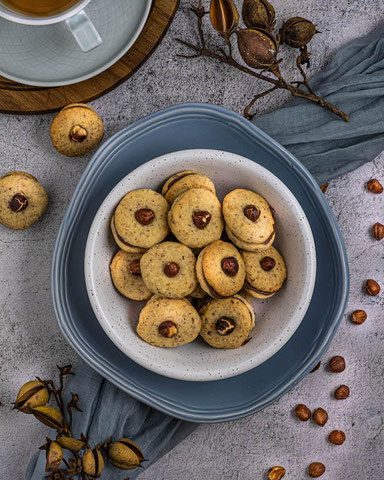 Prep time: 20 min
Baking time: 20+20 min
Chilling time: 1hr
Cookies: about 40
---
Ingredients:
1 Vanilla pod
190g soft butter (they use peanut oil in italian version instead) 
100g granulated sugar
1 pinch of salt
1 egg
250g wheat flour
120g ground hazelnuts
100g nougat cream (or you can also use any other cream you would use for cookies or cake)
40 pcs hazelnuts kernels
Procedure:
Slice the vanilla pod, scrape out the pith. Mix the vanilla pulp, butter, sugar, salt and egg until creamy with a hand mixer.
Mix flour with ground hazelnuts and stir quickly under the butter mixture. Halve the dough, form each into a ball, wrap in cling film and refrigerate for 1 hour.
Preheat the oven to 180C degrees. Take the first half of the dough out of the fridge and make hazelnut sized balls. Place on a baking tray covered with baking paper and slightly press each ball.
Bake in the oven for 13-15 minutes until golden brown.
In the meantime, form small balls from the second piece of dough and place on a second baking sheet lined with baking paper. Press flat and place a hazelnut kernel in the center of each ball. Bake in the oven for 13-15 minutes until golden brown. Allow biscuits to cool down.
In the meantime fill nougat cream in a pastry bag and refrigerate for 1 hour in the refrigerator ( I skipped this step and went directly onto buiscuits filling).
Put a little amount of nougat cream on a biscuit without hazelnut and add a second biscuit with hazelnut kernel.
STORAGE
Keep the biscuits in a cookie tin in a fridge for a week at the most.
Enjoy!
---
For the original recipe which was posted on www.frischgekocht.billa.at, please click here.