Here another sweet Italian recipe which is easy and delicious to try. Italian Coconut Biscuits with white chocolate inside. Try it at home!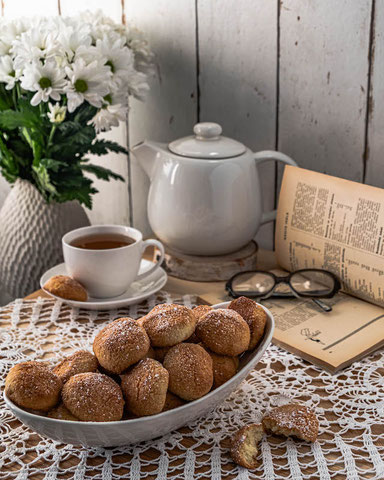 Prep time: 25 min
Baking time: 20 min
Portions: about 30
---
Ingredients:
250g Grated Coconut
100g white chocolate buttons
2 Eggs
90g Flour 00 
80g Sugar
80g Soft butter 
5g Baking powder for cakes 
Pinch of salt
Optional:
Icing sugar
Procedure:
To prepare our coconut biscuits, chop the soft butter into pieces and add sugar into a bowl. 
Whisk the ingredients with the electric whisk and then add the eggs, one at a time. 
When you have obtained a homogeneous mixture, pour the sifted flour.
Continue adding a pinch of salt and the coconut.
Mix by hand.
Finally add the yeast and mix the dough one last time. 
Now take a small portion of dough as big as a walnut and weighing about 20 g, make small balls with your hands.
Then create a groove by pressing with your thumb at the center of the ball.
Stuff with a chocolate button (or use a  small bar of chocolate about 3 g) and wrap it back recreating the initial ball.
You should get about 29-30 biscuits. 
Place them on a baking tray lined with parchment paper. 
Bake the biscuits in a preheated oven at
180 °C for 20 minutes. 
When baked, remove the biscuits, let them cool and then serve them with a sprinkling of icing sugar
STORAGE
Keep the coconut biscuits for a week at the most.
Buon Appetito!
---