You have this lazy weekend, but still craving for some home made cake delicious cake? Got some ripened bananas at the hand? Now you can either lie on the coach or have your easy peasy home-made banana loaf ready for the oven within 15 minutes. Since I started to make the banana loaf like this, everyone asked me after the recipe, because obviously is this cake absolutely delicious. So here it is: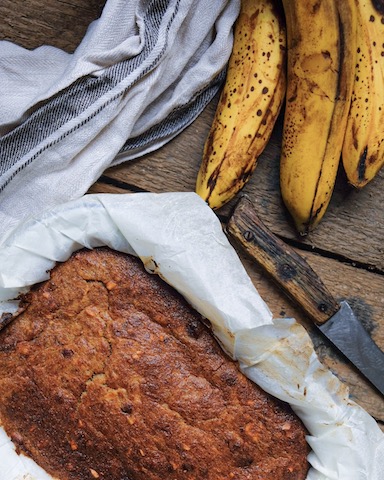 Prep time: 15 min
Baking time: 40 min
Portions: about 12
---
Ingredients:
200 g room temperature butter
100 g coconut flower sugar
3 beaten eggs
180g spelt flour/self-raising flour
60g raisins or any dried fruits
60g walnuts or hazelnuts
3 large ripe bananas
Optional:
apricot or strawberry jam or melted chocolate to spread over the top
Procedure:
Preheat the oven to 180 degrees celsius. Grease (with butter) or line a medium sized loaf tin or a baking tin with baking paper.
Beat the sugar and butter until you get fluffy consistency. After that, whis in the beaten eggs. Should the mixture begin to curdle, put some flour into it.
Now add the mashed bananas, dried fruit and nuts and stir. 
Add the flour and mix together well.
Pour the liquid dough into your prepared baking tin and bake in the oven for about 40 minutes or more, until golden.
Now, when the cake is ready and a bit cold, you can optionally spread some strawberry jam or melted chocolate over the top.
And now take your slice and go back to your sofa and enjoy your sunday!
Buon Appetito!
---