Summer is coming and so the season of tomatoes will bes here soon. The best how to keep them nice and fresh is to conserve them in glass jars so you can use them also later on during th winter season and make this beautiful tasty tomato soup with bacon and onions! Enjoy!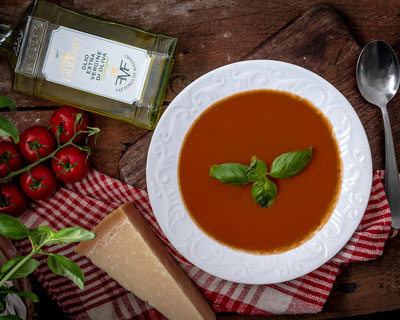 Prep time: 10 min
Cook. time: 1 hour
Portions: about 10
---
Ingredients:
extra virgin olive oil - I used the Laudemio which i love the most
250g diced pancetta, guanciale or similar bacon
600g white onions, peeled and finely sliced
1.5 litres chicken stock
1 x 400g tin/glass chopped tomatoes
100ml whipped cream
fresh parmesan cheese 
fresh basil leaves
optional: piece of bread
salt
pepper
Procedure:
First start off with dicing your bacon. Put the olive oil into a saucepan over a heat and fry the bacon for about 3-4 minutes. Don't forget to stir now and then. 
Add the sliced onions and stir together. Cook for 20 minutes over medium heat, stirring occasionally to prevent onions from burning.
Now pour in the stock and add tomatoes. Bring to the boil and let to simmer for about 30 minutes, stirring occasionally.
Just before serving, taste and season with salt and pepper and add the whipped cream to thicken up the soup a bit and add that creaminess a bit.
Serve hot, with Parmesan and basil leaves on the top. You can optionaly serve the soup with piece of bread.
Have a nice sunday!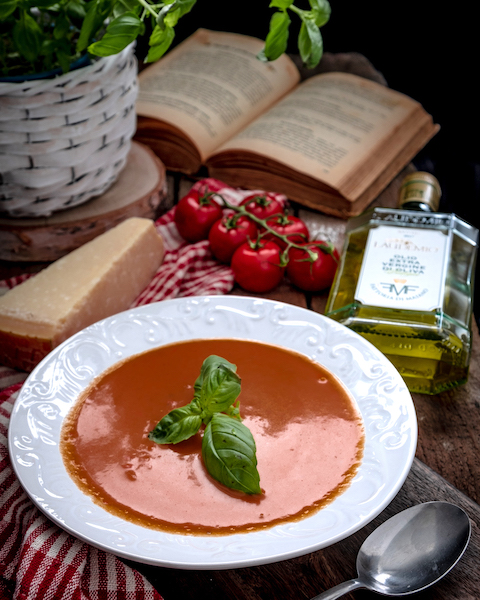 ---