If you are awaiting some guests at the weekend and you want to prepare a original home-made and easy appetizer for them, do not hesitate and try these easy cheese and black pepper Grissini (Bread Sticks) at home! With some prosciutto or home-made basil pesto this would be a favourite snack for everyone!Lets' prepare them!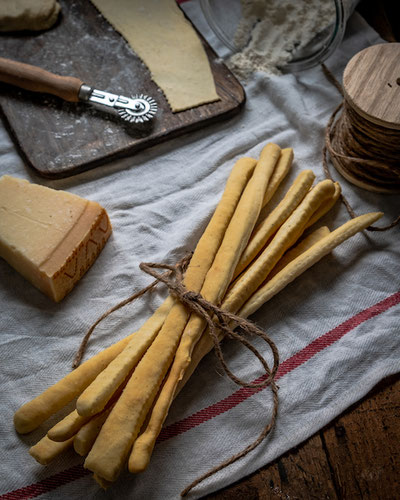 Prep time: 20 min
Baking time: 20 min
Raising time: 2hrs
Portions: about 70
---
Ingredients:
500g white italian flour "00"
90g grana padano or pecorino
25g fresh yeast
10g sugar
500ml water at room temperature
45ml olive oil
9g salt
4,5g pepper
Procedure:
To start preparing the italian bread sticks, you need to grate the cheese. 
Mix the ground cheese with black pepper and put to your kitchen mixer. 
In separate bowl, mix the water, sugar and the yeast. Stir to dissolve.
Now, add the flour and salt to the kitchen mixer and pour in a little bit of yeast mixture. Knead for about 10 minutes, by gradually adding the yeast mixture. 
Now, when the dough is firm, add the oil into the dough and knead again at low speed.
As soon as the mixture is well mixed and the dough firm enough, transfer the dough to the pastry board and work briefly with your hands . Then put the dough ball into a big bowl, cover it with cloth or cling film and let to rest for about 2 hrs at the room temperature until the dough is doubled.
Remove the dough from the bowl, and put it on the floured surface using a rolling pin. Work until you get a rectangle of 19x25cm and a height of 7-8mm approximiately.
Evenly trim the edges and then, with a wheel pastry cutter, cut long stick at about 7mm thick. Gently place the bread sticks on a baking tray covered with parchment paper.
Now let to rest for about 20 minutes before putting into oven.
Preheat the oven to 200 degrees celsius.
Halfway through baking, you can turn them on the other side and continue baking, but it is not necessary. Once baked, let them cool on a rack.
Here are your breadsticks cacio e pepe: you just need to taste them!
Have a nice weekend!
---