If you want to prepare some special breakfast/brunch for your family during the weekend and don´t want to spend hours in the kitchen (only 1 hour maybe), than is this frittata with zucchini it! Lets' prepare it!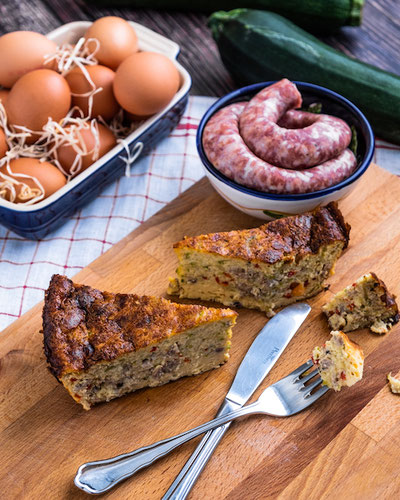 Prep time: 15 min
Cook. time: 25 min
Baking time: 40 min
Portions: about 10
---
Ingredients:
1 pepper, finaly chopped
1 large onion, finaly choppped
2 medium sized zucchini, grated
1 salsiccia (can be optional)
butter
10 eggs
200ml cream
100g Provola
100g Parmigiano Reggiano
salt
pepper
Procedure:
Preheat the oven to 180 degrees celsius.
Salt the grated zucchini and let stand for 20 minutes to let the juice out, then squeeze out.
Meanwhile, heat olive oil in the pan, add butter, onion, pepper and toast for 5 minutes.
Then add the fresh salsiccia. Let it cook for about 15 minutes.
Then add zucchini and roast for about 15 minutes.
In the meantime mix whipped cream, eggs, cheese and spices.
Pour this mixture into a baking dish (I used a glass baking dish) and add salsiccia with onions.
Bake in the oven for about 30-40 minutes.
Consume cold or warm.
Have a nice weekend!
---