These crumpets are so good, that you would love to eat them at any occassion! Bank holiday, lazy sunday or just on any regular day! Try this healthier version with spelt and coconut flour and ground almonds. You will love them. Promise ;-)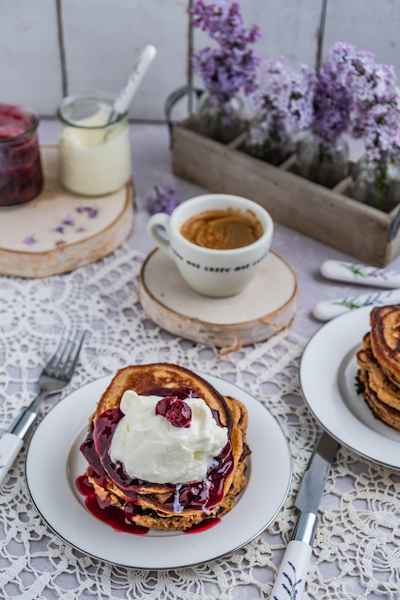 Preparation time: 20 min
Raising time: 30 min
Portions: about 24
---
Ingredients:
100g ground almonds
300g spelt flour
100g coconut flour
80g coconut sugar
4 whole egg (free range)
fresh yeast (3/4 cube)
coconut oil for frying
600ml milk (at room temperature)
For your topping:
double cream
jam of any choice
optionally butter
Procedure:
Combine milk (at the room temperature), coconut sugar and yeast in a large bowl and allow the yeast to make its thing and let to bubble up. Add the eggs and salt.

Add the spelt flour, coconut flour and ground almonds and mix everything together until the mixture is smooth. You can also use a kitchen mixer so you get a smooth crumpet batter.

Now cover the bowl and set it aside to rise until the mixture has doubled and the batter is bubbly, for about 30 minutes.

Heat a large pan and add coconut oil. (If you have crumpet rings, you can use them) Pour your batter into the pan in small portions and allow the batter to bubble up and cook for some time until golden brown on the bottom, then flip the crumpet over and cook quickly. 

Remove crumpets from the pan and set aside. Serve your crumpets with lots of cream or butter. Use jam of your choice. I used cherry jam!
---