During the Easter in South Italy, there is a tradition of making savoury kind of bread which is usually eaten on Resurrection Sunday. At this point, people of Naples divide into two groups - Those who would eat Tortano Napoletano and those who make Casatiello. Here the Tortano Napoletano (with pork greaves) recipe by Lydia Capasso and M.Teresia di Marco, two authors of the book "La Cucina di Napoli". This recipe is truly easy to make and you should give it a go too! Lets' do it!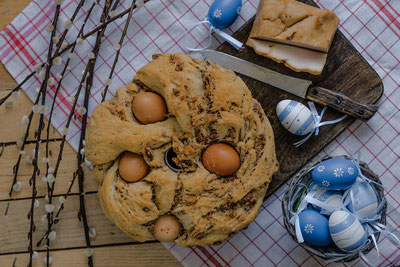 Prep time: 15 min
Rising time: 2hrs
Baking time: 50 min
Portions: about 12-14
---
Ingredients:
1 kg italian flour type "0" 
 450 g pork greaves (obtained from 1 kg 
fresh pancetta) 
 250 g pork fat
 600 g water at room temperature 
 15 g fresh yeast 
freshly ground black pepper
 3 tea spoons of fine salt 
 2 tea spoons of coarse salt
 Optional (decoration): 4 whole eggs
Procedure:
 In a large bowl, sift the flour, add the crumbled brewer's yeast and gradually incorporate the water until you have obtained a soft but not sticky dough. Add the greaves and the salt very gently, together with a nice sprinkling of freshly ground black pepper. Then start to grease the mixture with the lard until it has been completely absorbed. Form a large donut and put it to rise in a donut mold.
After doubling, optionaly decorate with 4 raw eggs and bake at 170 grades celsius in an oven for at least 45 minutes, until it is completely golden on the surface.
Consume cold.
Buona Pasqua!
---