Arancina was probably born in Sicily. It is very popular street food in Palermo, and also in the south of Italy, Naples. That's where my today's recipe come from. To be completely honest, I have been inspired by the recipe which I found in my new souvenir from Naples - book called "La Cucina di Napoli" (written by Maria Teresa di Marco and Lydia Capasso) This book is new and as I haven't found it in english, I thought it would be good idea to share my experience with cooking Arancini alla Genovese with you. It is important to know, that La Genovese is very traditional in the kitchen of Neapolitan people. La Genovese is very similar to La Bolognese sauce, but to me is La Genovese, in comparison to La Bolognese, more flavourful and fuller in taste. Not too much talking, here is the recipe: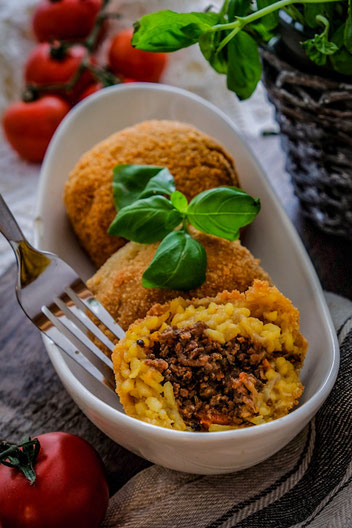 Preparation time: 4,5 hrs
Chilling time: 1 hour 
Serves: 10 persons
There are 3 important (simple) steps in making Arancini alla Genovese:
Make the best creamy risotto possible
Make the best, slow cooked Genovese sauce 
Filling up the rice balls with Genovese sauce and frying them using fresh breadcrumbs.
---
Ingredients:
For the risotto: 
1.2 litres vegetable stock
4 tablespoons olive oil
1 large onion, peeled and finely chopped
400g Carnaroli rice (you can use Arborio too, but I prefer Carnaroli)
150ml dry white wine or prosecco
100g  butter
120g freshly grated Parmigiano cheese
Salt and pepper
For (my version of) the Genovese Sauce:
1 kg yellow onions 
0,5 kg minced meat mixed up with salsiccia (instead of chuck roast) 
Lardo (pork fat) for frying onions
Vegetable or chicken stock, about 0,5l-0,7l
Best quality Sea salt (i use Maldon Salt)
Freshly ground black pepper 
1 carrot, finely chopped 
1 celery, finely chopped 
20 g  guanciale, finely chopped 
some chopped fresh rosemary 
150 ml white wine 
Freshly grated Parmigiano 
For Frying:
 2 beaten eggs 
fresh bread crumbs
1 liter of olive oil suitable for frying
Procedure:
First, make the risotto.
This one is my favourite way to make it:
Heat the olive oil in and butter a large, heavy-based saucepan over a medium heat.
Add the onion and fry for 5 minutes or until softened, stirring occasionally.
Add the carnaroli rice and fry for 3 minutes, stirring constantly, or until the grains are coated and shiny.
Pour in the prosecco and let it cook for 1-2 minutes, until it has evaporated. (prosecco gives to the rice more air)
Add 2-3 table spoons of stock and bring to a simmer. Stir until the liquid has been absorbed.
Continue by adding the rest of the stock until the rice is cooked but still has a slight bite.
This will take about 18 minutes.
You might not used all the stock.Remove your pan from the heat.Add some butter, saffron if you like to and stir for about 30 seconds until creamy.
To make the Genovese Sauce:
Using Lardo, sweat the onions on the low heat, in a large frying pan. Add finely chopped carrots and celery after a while of cooking. 
When the onions get nice and brown, add the mince meat and guanciale (speck) . Simmer for 5-10 minutes. After that, add the dry white wine. Let the alcohol in the wine to evaporate. Then, put the stock in. Season with pepper and add rosemary. Turn down to low heat and let to cook for about 3 hours, stirring ocassionaly to prevent it from burning. 
After you are finished with cooking the sauce, let to cool down for an hour. Meanwhile put 1-2 beaten eggs to your risotto and stirr well to combine the egg with rice thoroughly. Add about 70 g of parmiggiano and mix well together. 
For making arancini:
Take a handful of your risotto rice into your hand. Squeeze and put a table spoon of Genovese into the middle. Make a ball, pressing the meat into the centre. Roll to make a ball, set aside. Make as many risotto balls as you can. Use up all of your risotto. After you are finished, roll the risotto balls in an beaten egg mixture and then cover in breadcrumbs. 
Frying:
Heat up the olive oil to reach the frying-friendly temperature. Now, immerse the risotto balls into boiling oil until golden and crispy, one after another. Serve with rocket salad and some fresh cherry tomatoes on a side. 
Buon appetito!
---