"La Caprese di Zia Rita" is the original name of this recipe by Gino D'Acampo which inspired me. My version of this delicious dessert contains mascarpone cream which accompanies this cake very well . It is one of the easiest and the most chocolaty dessert I have ever made! This tart is also gluten free and contains low amount of sugar. Let's get onto it!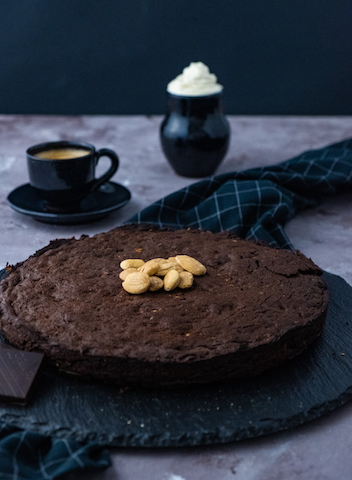 Preparation time: 30 min
Chilling time: 10 min
Serves: 8-10 persons
---
Ingredients:
150g salted butter
4 whole eggs, but separated
80g coconut flower sugar
250g Lindt dark chocolate (87% cocoa solid)
100g shelled pistacchios, peeled and finely chopped
1500g almonds, ground (or in my case - finaly chopped)
For the cream:
200g mascarpone
200ml double cream
Splash of  Disaronno (Almond Liquor)
Kitchen equipment:
heatproof bowl
saucepan
whisker
loose-bottomed cake tin
Procedure:
To make the chocolate base, first chop the chocolate with the knife or break it down with your hands. Melt it in a bain-marie, add the butter and  once it is completely melted, let it to cool down.
Take the pistacchios, cover with boiling water and let to sit aside for about 5 minutes. 
After that, peel them and chop finely. 
Preheat your oven to 180 degrees celsius. 
Meanwhile, put the egg yolks into a mixing bowl and add the sugar. Mix well until you get pale and fluffy mixture. At this point, pour the melted chocolate with butter in. 
Keep stirring until the chocolate is well incorporated . Now mix in chopped pistacchios and ground almonds.
Mix well. Now you can whisk the egg whites until they get stiff.
Gently fold in the egg whites into your chocolate mixture. Transfer your tart mixture into the cake tin and bake for about 30 minutes, 180 celsius grade. 
Switch off the oven and let to cool down for 10 minutes. 
Now you can prepare the cream.
Mix mascarpone, whipped cream and disaronno together until you get creamy, even texture. 
Now serve your cake with the cream aside and with chilled glass of Disaronno!
Enjoy!
---