If you are also a little bit like myself and would like to do something good for yourself while having the neverending lust for something sweet and good, I have an absolutely delicious and simple dessert recipe for you all! Low Carb Coconut Raffaelo Balls. YUMM!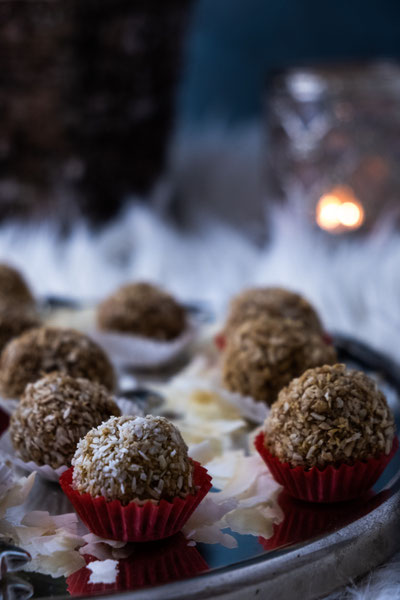 Preparation time: 15 min
Chilling time: 20+60 min
Portions: about 30
---
Ingredients:
250g almond butter
200g cream coconut
80ml coconut milk
3 tea spoons coconut sugar 
200g grated coconut
1 vanilla pod
100g blanched almonds or macadamia nuts
100g My Powerlogy Pistacchio Cream 
Procedure:
Place almond butter, cream coconut, coconut milk and vanilla pod seeds into a mixing bowl. Combine well. Put the mixture into the freezer for 20 minutes to acquire a firm mass. This will be great for making the raffaelo balls later. 
After 20 minutes take out your ready almond-coconut mass. 
Take little spoon (or in my case- I used a watermelon spoon) to scoop out a little ball where you press an almond or macadamia nut into it.
Form a ball. 
Roll the almond-coconut ball in the "My Powerlogy" pistacchio cream and then cover in shredded coconut. 
Put on a tray or a plate and give it a good chill, at least 60 minutes.
The raffaelo balls are the best to enjoy well chilled. 
After that, enjooooooy with a cup of coffee without any regrets!
Have a wonderful year 2019!
---