Apple Pie must be my favourite of all the cakes my mum used to make as I was that little kid watching cartoons every sunday morning. I can remember the smell of hot apple pie in the oven while baking - as it was yesterday. Let me share the precious knowledge of making mama's apple pie ! Let's get onto it!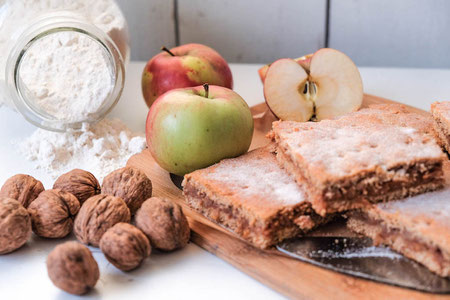 Preparation time:
30 min
Baking time:
30 min
Dough chilling time:
1 hr
Serves: 10-12 persons
---
Ingredients I used:
For the dough
500g spelt wholemeal flour
180g coconut flower sugar/regular sugar
250g butter (softened)
3 eggs 
1 sachet of baking powder 
For the filling
800-900 g organic apples from grannies garden
grounded cinnamon
1-2 sachets vanilla sugar
optional - a handfull of crushed wallnuts
Whipped cream for the complementing your dessert :-)
Procedure:
 In a small bowl combine flour, baking powder, sugar, butter and eggs.
After that put the mixture onto clean lightly floured surface and knead the dough. Then divide it to 2 even loaves. Put those into the refrigerator for 1 hour.
Meanwhile grind your apples. 
After the dough has cooled down, take it out and roll out both loaves to 2 even thick layers. Put the first layer of your rolled out dough onto your baking sheet. Scatter the grated apples, sprinkle over some cinnamon and vanilla sugar. 
Cover the apples with the second layer of the dough. 
Make sure that you pierce the dough with a fork avoiding the pastry to puff up.
Brush the top with some egg wash.
Put to the pre-heated oven to 190 degrees of celsius. 
Bake in the oven for 25-30 minutes. 
Make sure you do not overcook it. 
Check the process of baking from time to time. 
After the cake has been baked to perfection, let to cool down for 30 minutes at least.
Enjoy your apple pie with some whipped cream on the side or just like that!
Enjoy!
---