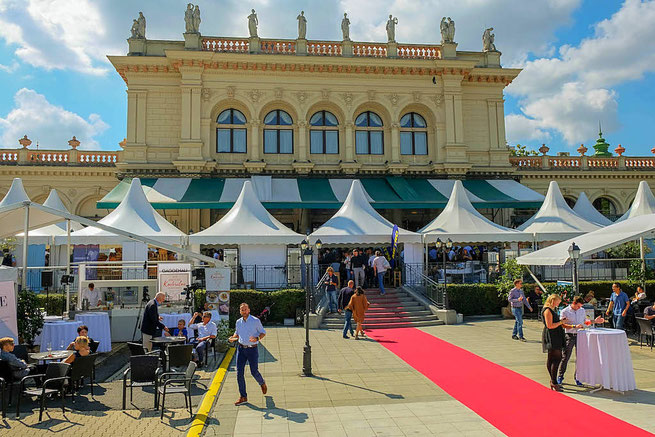 The crème de la crème of austrian cuisine and wineculture have represented their work in the Viennese ´Central Park´ Stadpark over the weekend of 8th-9th September. The famous Gault&Millau restaurant guide opened the door of Kursalon in Vienna, to the Festival of fine dining cuisine, wine and bread. The venue, which is usually place of concerts and gala evenings, was full of people who were enjoying the best food, at the Genuss-Messe 2018 (aka Gourmet Exhibition). I could not miss such great opportunity and visited this extraordinary event!
Apart of lot of food and wine stalls, the Gault&Millau also prepared few cooking shows for visitors, to expose the secrets of the beautiful art of cooking. 
I would like to share with you one of the best and interesting exhibitors, chefs and restaurant which I personally loved most!
Here they are:
1. Le Ciel - Toni Mörwald
I have visited one of Toni Mörwald´s restaurants back in 2013. To be honest, it was my first fine-dining experience. And to be more honest - when I look back, it was one of THE BEST dining experiences of my life. The setting of the restaurant itself, the experienced friendly staff, the menu and the atmosphere made me feel special, and the most importantly well fed! 
Toni Mörwald didn´t let us down at the Genuss-Messe either! His dish was absolutely delicious, moist, well balanced.. I would gladly say that Toni was one of the Highlights of the Gourmet Festival Genuss-messe!
---
2. Gut Purbach - Best Cevapcici
Cevapcici in a fresh warm burger ban. Doesn´t sound very gourmet alike but this food was one of the best ones I have tasted at Genuss-messe. With it's home made pepper sauce is Gut Purbach surely worth visiting at it's base near the Lake Neusiedl!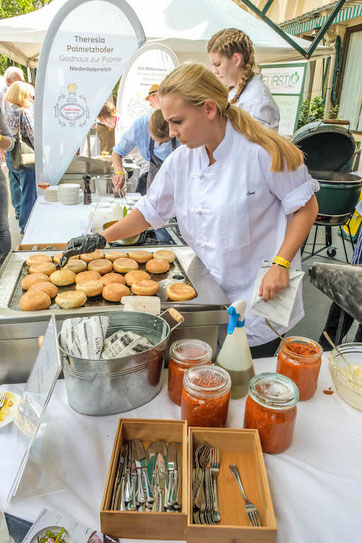 ---
3. Tian - vegetarian heaven
Tian is a fine dining restaurant in the 1st district in Vienna which cooks completely meat free. In other words -  it is a vegetarian restaurant. To be honest, before tasting that georgeous looking dish (which I would never say was vegetarian) which prepared the head chef Paul Ivic I was a bit sceptical. But after tasting his "Baked Stracciatela" I knew I have to book a table there very soon! Highly recommended!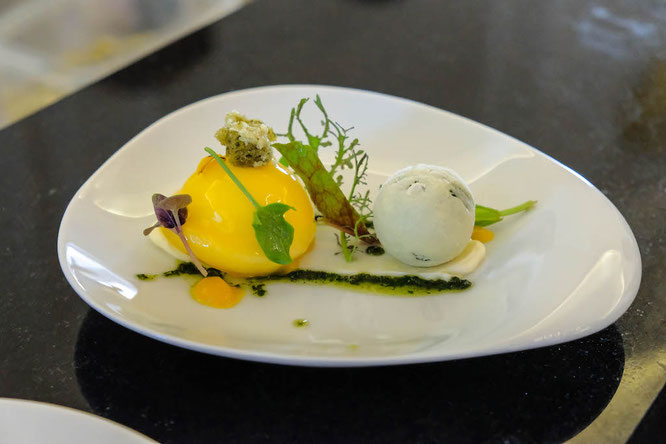 ---
4. Steiereck - Heinz Reitbauer and his delicious Forest Perennial Rye with Chard
Steiereck is THE restaurant in Vienna. It is both Michelin and Gault&Millau Restaurant Guide top spot to eat. The head chef Heinz Reitbauer took care of his visitors during the Genuss-Messe all day long and was serving his delicious Forest Perennial Rye with Chard, Buna Shimeji & Japanese Woodtuft Mushrooms Elderflower. Dish which I will not forget!
---
5. Pork Belly at Mochi
One of the best tastings which I experienced during the Genuss-Messe was definitely a piece of pork meat with broccoli wrapped up in a seaweed sheet from the Chef Eduard Dimant who cooks for Mochi - Kind of japanese restaurant where the East meets West - combinations of japanese + international cuisine. The dish I tasted was quite interesting combo of pork meat combined with sushi ingredients and black garlic aioli. This dish just blew my mind! No need to look for a quirky restaurant next time - I will definitely choose Mochi!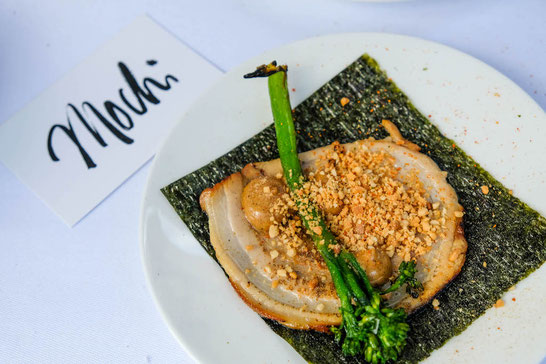 ---
6. Rozmarin - Surprise from Maribor
And because there is not enough places where you can eat good piece of pork meat, I have tried one super traditional creation from Slovenian Chef Miso Krojsl from the restaurant Rozmarin. I really loved his pork belly with potato mash and red cabbage. It reminded my my chidlhood. I would definitely love to go there, although the restaurant is far away in Maribor, Slovenia.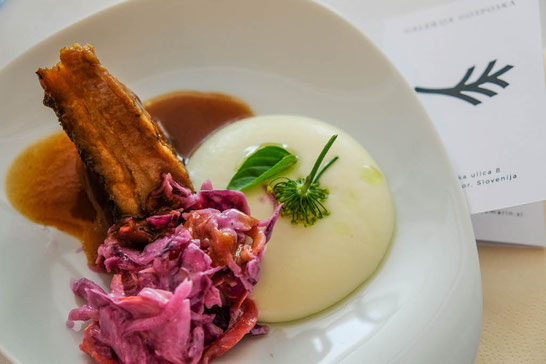 ---
7. Gasthof Auwirt -"Shlipfkrapfen" from Christian Winkler
I am a big lover of italian cuisine. And I know that to prepare good pasta dish, there needs to be more than flour and eggs in preparing. Cooking with Love it's the most important process in entire preparation of food. And I was surely able to taste this love in the dish from Christian Winkler and his creation called Winkler's Schlipfkrapfen. I cannot actually translate what it means, but I would say it was kind of ravioli-like dish of a pie shape, with parmesan and butter. It was absolutely delicious. I love pasta and when it includes butter and parmesan, I am the happiest person when I can eat it :-)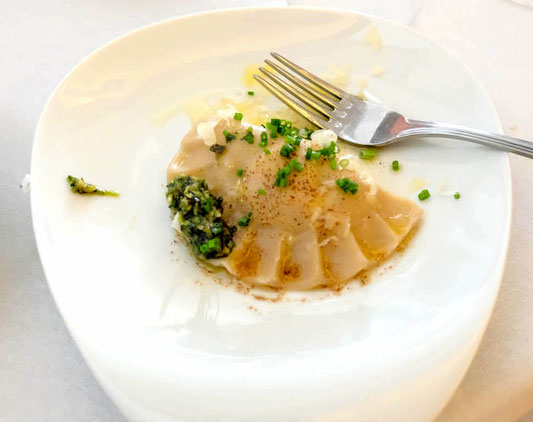 ---
More exhibitors who attracted my taste buds:
Parkhotel Holzner - Stephan Zippl with his beautiful fish dish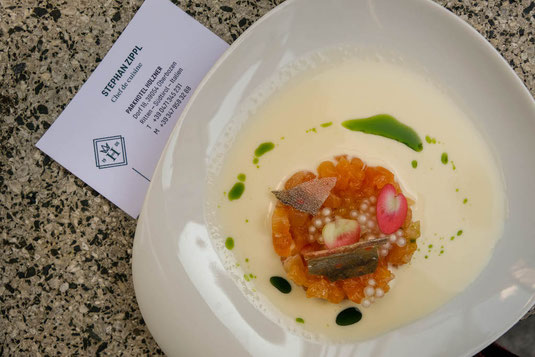 ---
Buchingers Gasthaus - Manfred Buchinger with its absolutely delicious Potato Puree with truffle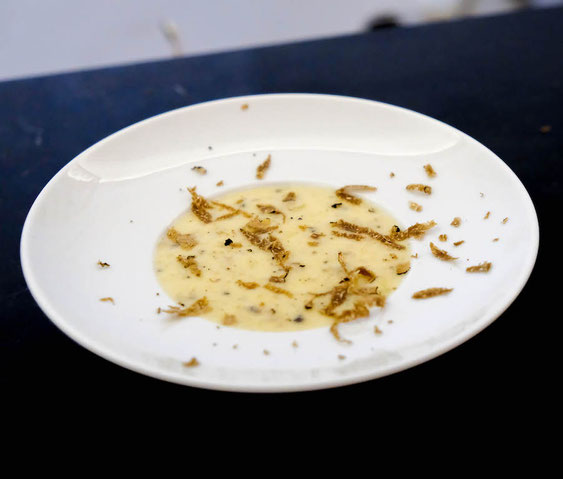 ---
Bank Brasserie in Park Hyatt, Vienna - Stefan Resch with unusual warm broccoli salad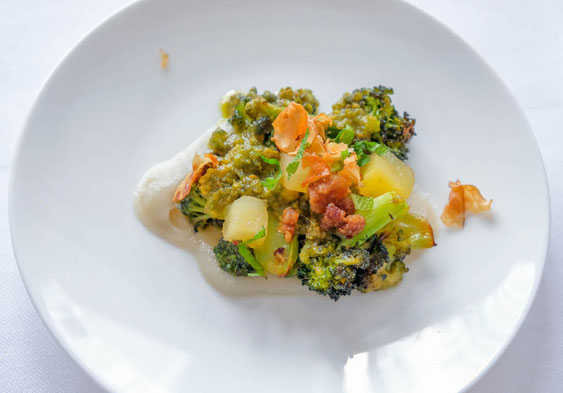 Restaurant Gasthaus zur Palme - Teresia Palmetzhofer with her 'Burnt Cabbage' from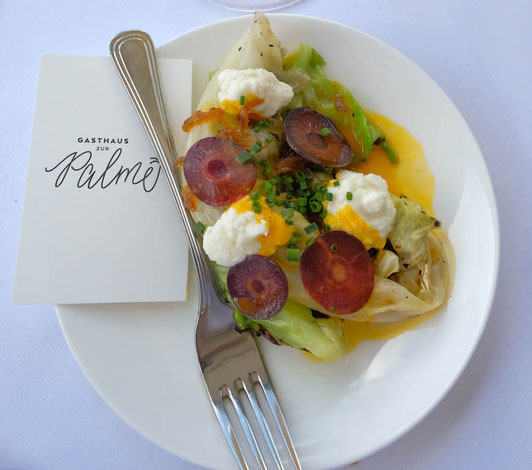 ---
Shiki - Japanese Fine Dining Restaurant with their sushi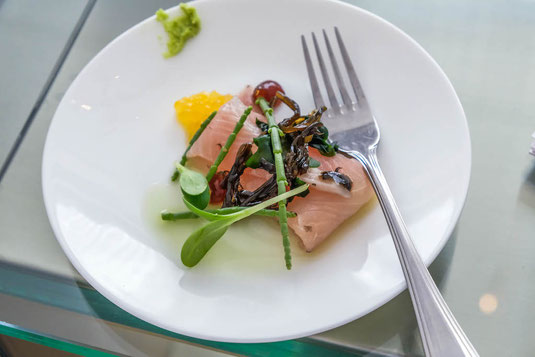 ---
A Barraca with its moist cup cake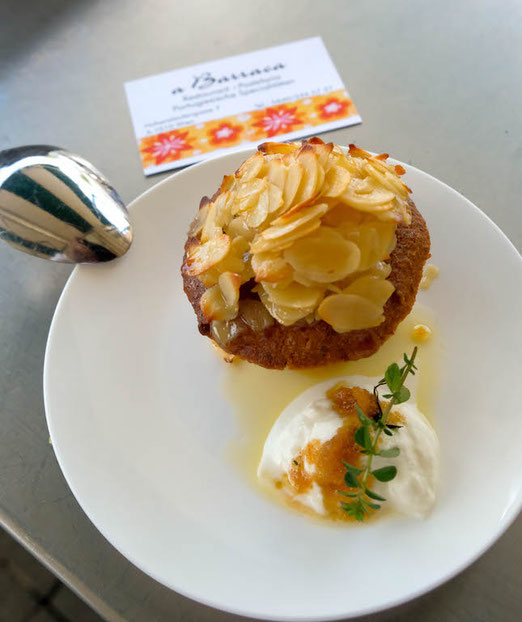 ---
Restaurant Konstantin Filippou with its typical austrian dish Black Pudding dumpling with sauerkraut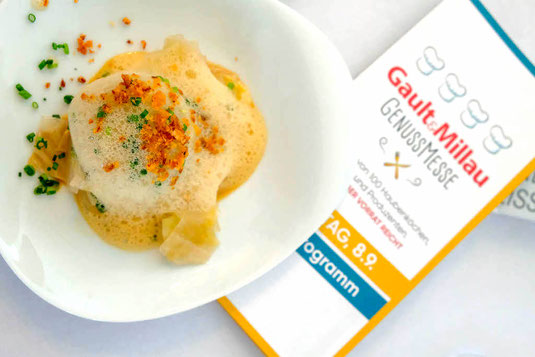 ---
Hotel Schachner - Artichoke from Marchfeld with Botarga from Sardinia by Wolfgang Bauer
---
Winemaker Christina Hugl - Sekt Blanc de Blancs
---
Distillery Maan and it´s legendary Zwetschge (Plum brandy) which was absolutely great! Very delicate but strong! Almost like my granddad used to make. Highly recommended!
---
Wine makers KOLFOK with their unfiltered natural bio wine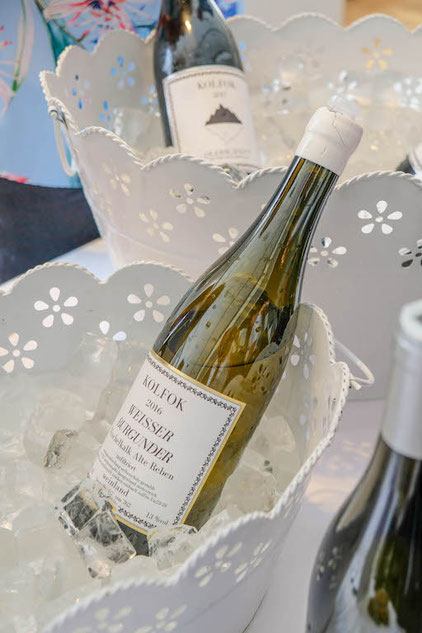 ---
Schlumberger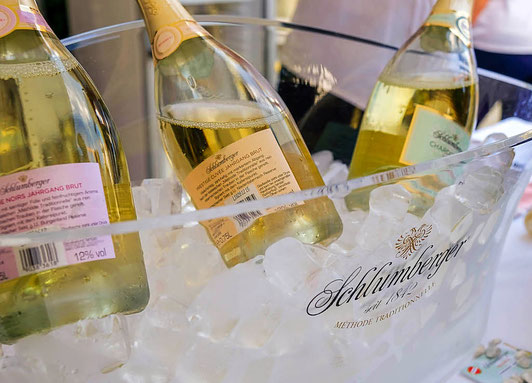 ---
HARKAMP Winemakers with sparkling fresh Sekt
---
METRO Cash&Carry Austria with their amazing coctail&fruit bar what was definitely one of the highlights of the whole event :-)
---
FINAL NOTE:
I enjoyed this year´s Gault&Millaut Genuss-Messe very much and was thankful that I could tried so many delicious dishes and drinks and to chat with some of the best chefs around. It was very inspirational and I will definitely come to the next year´s Genuss-Messe again!
Thank you for reading & see you there next year!
Cheers to good food&wine!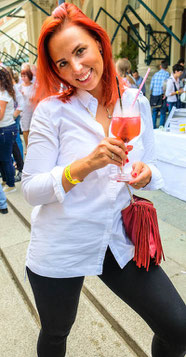 ---
---
DISCLAIMER:
Because there were so many (over 100 chefs/dishes) exhibitors at the Genuss-Messe 2018 venue, it was impossible to try food of all of them. I am only sharing my opinion/review on the dishes/drinks which I personally had the possibility to taste. All opinions and photos are my own and I do not get paid to present them.
---
---