These little pasta 'ears' (that's what they are called in italian) are Fresh, easy to make and tasty! This simple dish includes few ingredients only. make sure you pick the best quality of ingredients you can possibly afford! you will not be disapointed!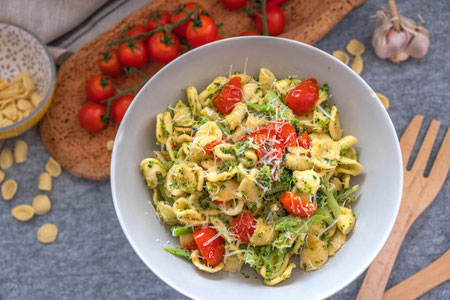 Preparation time: 10 min
Cooking time: 15 min
Serves: 4 persons
---
Ingredients :
500g of orecchiette pasta
olive oil 
1 garlic clove, finely chopped
15- 20 small cherry tomatoes, halved or quartered
1 red small chilli, finaly chopped
400 g broccoli florets
fresh parsley, finely chopped
pecorino or parmesan cheese for final grating 
salt and pepper
Equipment
large stockpot for cooking pasta and broccoli
large saucepan for making your pasta "base"
Procedure:
Heat the olive oil in your saucepan, but make sure you cook your sauce over medium heat. Add your chopped garlic, chilli and tomatoes and fry for 3 minutes or so (the tomatoes need to get soft). Add the chopped parsley.
Meanwhile boil about 2l water in your stockpot, where you added enough salt. Put the orecchiete in the boiling water and let to cook until they are soft, but not overcooked (al dente). At this point, add your broccoli florets and cook for another 2-3 minutes.
Once your pasta and broccoli is ready, drain this mixture and put it into the saucepan where the tomatoes with garlic have been cooking. Mix well.
Plate your pasta dish nicely, preferably into a pasta bowl. 
Then grate som pecorino or parmigiano cheese over the top, the amount of cheese added, is up to you :-) 
And now, enjoy!
Buon Appetito!
---