Guys I have to admit, this is one of the easiest recipes I have ever made. The funny thing is, that you can adjust this recipe by yourself, just as you wish to. To make this beautiful juicy soft cake, you can still use regular flour and sugar if you like. This time I used wholemeal spalt flour, stevia instead of sugar and coconut oil instead of just regular oil. This cake still tastes amazing! If you are lazy sometimesvas myself, I can assure you - you will have it done just before you  blink your eye. *recipe inspired by my beautiful grandma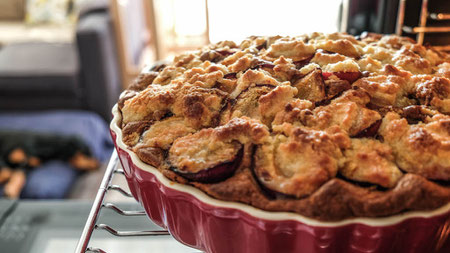 Preparation time: 15 min
Baking time: 45 min
Chilling time: 20 min
Serves: 8 persons
---
Ingredients I used:
For the dough
2 mugs of plain or self-raising flour flour (or wholemeal spelt flour) - and also do not forget - the bigger the baking tin the more flour you will need
1 mug of sugar or 0,5 mug of Stevia (if you are going healthy here)
1 sachet of baking powder (in case you are not using self-raising flour)
2 eggs
1kg organic regular plums
150gml white plain yoghurt (full fat if possible)
1 mug coconut oil/fat 
(if you fancy you can use vanilla pod seeds in this recipe too) 
Additional:
If you like to make some butter crumb topping on it, as my grandma did, you will need_
80 grams butter (at room temperature)
80 grams bread crumbs
150g caster sugar. 
Just mix all ingredients together and scatter the whole mass all over the cake. 
While you making your prep, preheat your oven to 180 degrees of celsius. 
Butter for greasing your baking dish
Whipped cream for the complementing your dessert :-)
Procedure:
Preheat the oven to 180 degrees of Celsius.
Prepare your round baking dish - in this case - use less flour . (Usual tart tin would do a great job!)
Mix all the ingredients together in your mixing bowl ´til well combined. Pour your nice and fluffy mixture into your cake tin. At the end, add your halved, stone-less prunes on the top of your mixture. After that, scatter your bread and butter crumbs all over your liquid cake mixture.
Bake in the oven for 45-50 minutes. 
Remove the cake form the oven and let to sit for another 20 minutes. 
Enjoy your plum cake with some whipped cream on the side or just like that!
Buon Appetito!
---