This Baked Neapolitan Cheesecake tart usually eaten at easter, would be made of ricotta and orange flower water, rather than cream cheese and lemon juice. Nevermind. My version came up very tasty, moist and juicy. And it is gluten free as well! Try it at home too! This simple recipe is for anyone!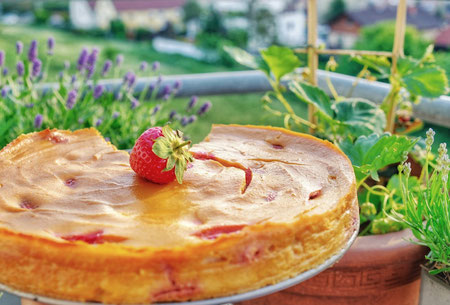 Preparation time: 15 min
Baking time: 35 min
Chilling time: 30 min
Serves: 8 persons
---
Ingredients I used:
For the dough
5 table spoons coconut flour
600g cream cheese /instead of original ricotta/
140g coconut flower sugar
3 eggs
300g organic strawberries
20ml freshly squeezed lemon juice
2 table spoons blackcurrant liquer /orange or lemon liquer would do also good/
finaly grated zest of 1 lemon 
Additional:
Butter for greasing your baking dish
Whipped cream for the complementing your dessert :-)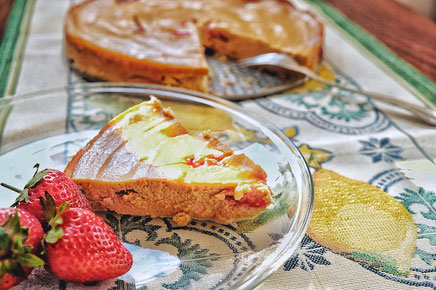 Procedure:
Preheat the oven to 180 degrees of Celsius.
Prepare your round baking dish. (Usual tart tin would do a great job!)
Mix the cream cheese, coconut sugar, eggs and your whatever liquer in a large bowl. Beat the eggs into your mixture and stir well. Mix in the lemon juice, coconut flour and lemon zest and mix again til well combined. At the end, add your strawberries and mix well again. 
Put your nice and fluffy mixture into your cake tin. 
Bake in the oven for 35 minutes. 
After 35 minutes are gon, have a look at the cake. If the edges  are firm and the middle still nice and wobbly, that´s it. 
Turn off the heat. Seat aside and let to cool for another 30 minutes or so. 
Don´t worry if the colour of the cake is brownish. It is because of the coconut sugar colour. 
Remove the cake form the tin by cutting the edges around. 
Serve with a handful of whipped cream or some fresh strawberries. 
Enjoy!
---
Original recipe is to be found here: