I don't know how about you, but when I cook (and eat), for me it is elementary important to have the best quality of ingredients possible. Of course not every time I have the opportunity and time to visit the best grocery shops around. But if I can, especially at the weekends, I take my time and enjoy grocery shopping, like today in Bratislava. And there was no other choice, than to visit YEME. Their website is in Slovak language. But I would shortly summarise what is the concept of YEME about.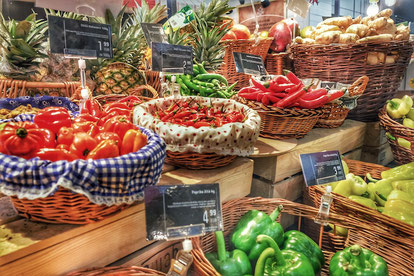 ---
First of all I have to mention the professionalism of staff working there. They are always keen to help you, answer any question you have and even explain you how a sausage is made or where their meat exactly come from. This is something what I really appreciate and like very much. Customer comes first! Actually speaking of origin of their products, YEME's mission is to bring true quality, fair and mostly local foods to Slovak (and also mine :-D ) tables. They encourage local producers to create an environment of good quality and honesty. They care where they products come from, how the animals are treated before they end up on a counter. 
---
Staff in YEME have provided us of with lot of information and have showed us lot of products which they make themselves at the premises such as Spreads of all kinds, Home-made sausages and even their own ham which contains 99% of meat and has no chemicals or preservatives in it whatsoever. You have to try one of those - they also allow you to taste almost anything at the delicacies department - They are super delicious. Here some of the home-made spread flavours they have: Sheep cheese, Tuna, Cheese and garlic, Basil, and many more! It is a big dilemma which to take home!
---
The special chapter is their own Bakery. I have to be honest here. Two years ago I visited Paris for the first time. I was enchanted by the flavour, crispiness and taste of the bread I have had there. BUT! Just until today! - OMG I have bought a regular french baguette in YEME. And- this one tastes and smells even better than those ones in Paris! Guys if you are into the food as I am - go, go there and grab your loaf of bread, focaccia, ciabatta, rye loaf, sesame bread, rustic baguette or even some of the home-made donuts! They have tons of products which they bake on site. And one interesting thing is that you can even admire the bakers as they take the hot bread of the gorgeous rustic wood ovens!
---
My second favourite department after the bread one is of course the wine department. They do have a wide range of local and foreign wines, to satisfy even the most complicated customers. To mention e.g. the champagne from Reims, Lanson Champagne or italian winemaker Alois Lageder. FYI this time I took a bottle of special wine - Red Currants wine. Sweet and bold one from one of the Slovak Wineyards Vinkova. Apart of all kinds of wine they have a range of beer from craft breweries. 
---
What is YEME exceptional for:
---
Products directly from the farms (milk, meat..)
Local products
Own home-made meat & diary production
Bakery Shop and home-made bread production (which they are famous for!)
Gluten-free, vegan, vegetarian etc. products too
Fresh Bar and Coffee Shop on the premises
Hand grown (chosen) vegetables 
and much more!
---
The only thing I can say at the end of my article is - GO there and take your time! Taste and smell the products, touch them, read the descriptions and choose your favourite ones. You will not regret it!
If you found this article helpful or interesting and have questions, please do not hesitate to contact me or leave me a comment!
Thank you!
Disclaimer:
---
I am by no means sponsored or paid by the YEME or any other company for writing any articles or reviews. 
All photos are taken by me. 
The content and works on these pages created by the site operator (myself) are subject to copyright law. The reproduction, processing, distribution and any kind of exploitation outside the limits of copyright require the written consent of the respective author or creator. Downloads and copies of this site are for private, non-commercial use only.