Once upon a time...there was a medieval castle built in 13th century ..and underneath, on the foot of it, in the historical centre of Trenčín (town) Slovakia,  there was this little, hidden hotel with the best restaurant in the town.. Restaurant "Pod Hradom" How can I know that exactly this is the best restaurant in Trenčín, you ask? Hmm.. My taste buds never disappointed me. And my eyes neither. The gourmet creations I have tasted in Restaurant "Pod Hradom" just made me to do "WOW".  And  - the atmosphere itself was also adding huge plus points to the whole experience. Let me show you..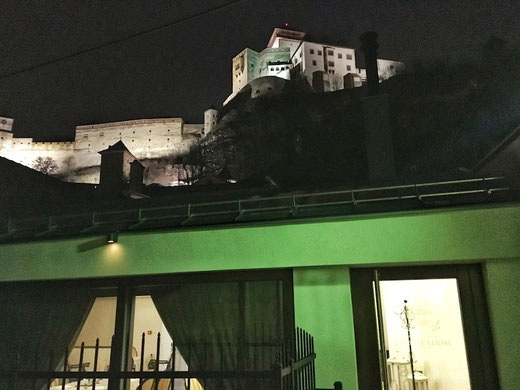 ---
Eventually we found time to visit this cute, stylish restaurant in Trencin. This restaurant has been rated Nr. 1 restaurant in Trencin according the travel website www.tripadvisor.com. We were lucky enough to get the best table just next to the fire place which added so much needed romance to our evening.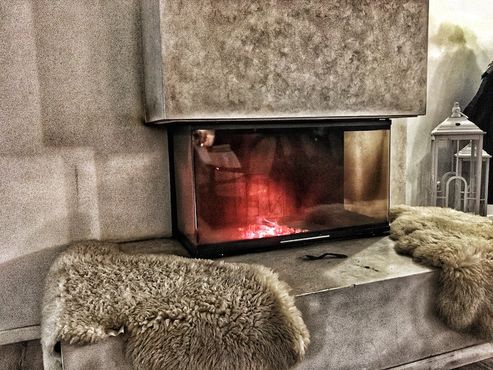 ---
The "Restauracia pod hradom" restaurant is located at a hotel premises. So I expected the restaurant to be packed up. And it wasn't which was very pleasant.
At the beginning I have to say that the staff was very attentive what is very nice and gives this restaurant very positive image. We got seated and immediately after that got a menu card with question if we also want to have a look at a wine card. We chose a bottle of Domaine Muré Crémant d'Alsace Rosé Brut which was kind of highlight of our evening. My husband doesn't usually drink too much wine, but this one was so tasty that he drunk at least half of a bottle. I also loved this wine very much. I can only recommend it. It is very smooth, a little sparkling, fruity crémant which can very well accomplish any kind of food you are having.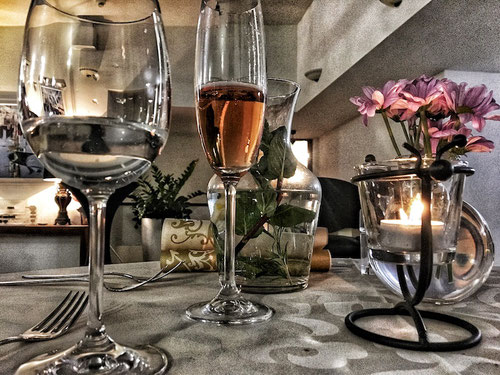 ---
For a start we got a little surprise from the head chef who gained his cooking experience in France while working there as a chef over 12 years. I have to say, his signature and very well done cooking is absolutely recognisable in every dish he made. Below a picture of Red Deer Air Dried Ham with home made onion bread, served as amouse bouche.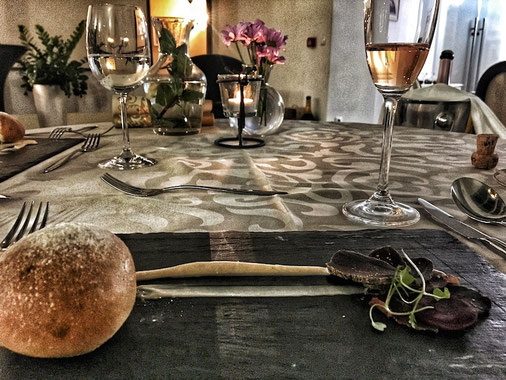 ---
As a starter, we chose the beef tartare with egg yolk, capers and mustard, with home made ciabatta, traditional smoked pork leg followed amazing chicken bouillon and a traditional bean soup. I must say, everything was so so delicious, home-made, and cooked to absolute accuracy. The portions are very generous and if you are going to eat 5 course menu like us, you will not be able to eat everything.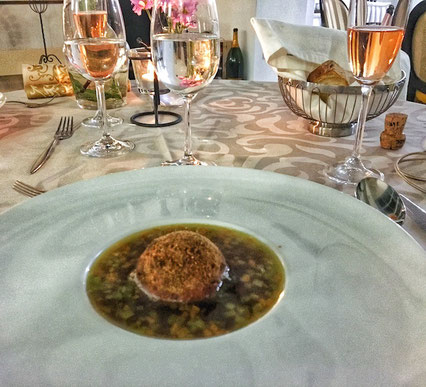 ---
For the main course we ordered Corn fed chicken with liver, chestnut, kohlrabi and wheat groats. My portion was so big that I would be able to have it for lunch the next day! One piece of chicken was wrapped in a chicken skin shaped into a bowl and was put onto a mash of wheat groats, which was pretty fascinating to see. The other main course we had was a piece of game with cocoa gnocchi, with orange and carrot mash. The combination is quite unusual but very interesting and delicious
---
The best comes at the end. And this time it is definitely true. Our desserts were not only huge but also very original and super tasty. Home made poppy seed cake with carrot mascarpone, lemon, haselnuts and fruit sorbet on the top. Very fresh, and not too heavy. And for me as a bonus at the end was definitely a chocolate pumpkin brownie with somme chocolate mousse, slowly cooked apple and cranberries. YUMM!
---
Our overall experience was extremely positive. High attentive staff topping up our glasses in a second after drinking up my glass of wine was very impressive.  High quality ingredients, wine, fire place and ambience were the top factors influencing our well being during our stay. And that made our evening even more special. Thank you "Reštaurácia pod Hradom" restaurant! 
We will definitely come again!
---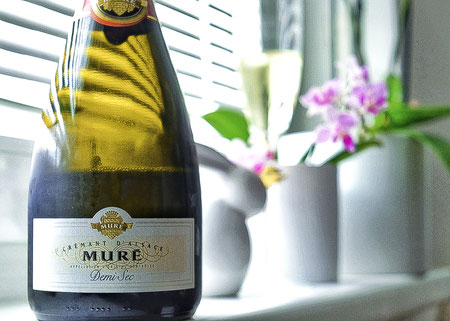 I don´t know how about you, but I just adore french wines. 
This one on the picture was one of the best cremants I have
ever tasted in my life, which was the one which we were drinking in the "Pod Hradom" Restaurant. Fruity, light, not too sparkling.  
Even my husband who doesn´t like to drink champagne has
enjoyed drinking almost the whole bottle by himself!
Family Muré has really good joice of wines. Click on the
picture and get yourself a bottle of Muré straight away! Cheers!